Main Floor
3,000 square feet
Twenty-foot tall Venetian plaster walls with vaulted ceilings, the Main Hall is the largest room in the house. Historic paintings from the Dutch Golden Age hang on the walls, with mirrors from France.
Main Floor features:
• Parlor with patio access
• Dining Room and side room
• Kitchen
• Restroom
• Den
• Great Hall
Lower Level
2500 square feet
Features:
• Theatre room
• Wine Cellar
• Custom Bar
• Restroom
• Billiard Room
• Guest Suite
Occupancy 75
Occupancy varies upon set up; whether seated, standing, or theater seating.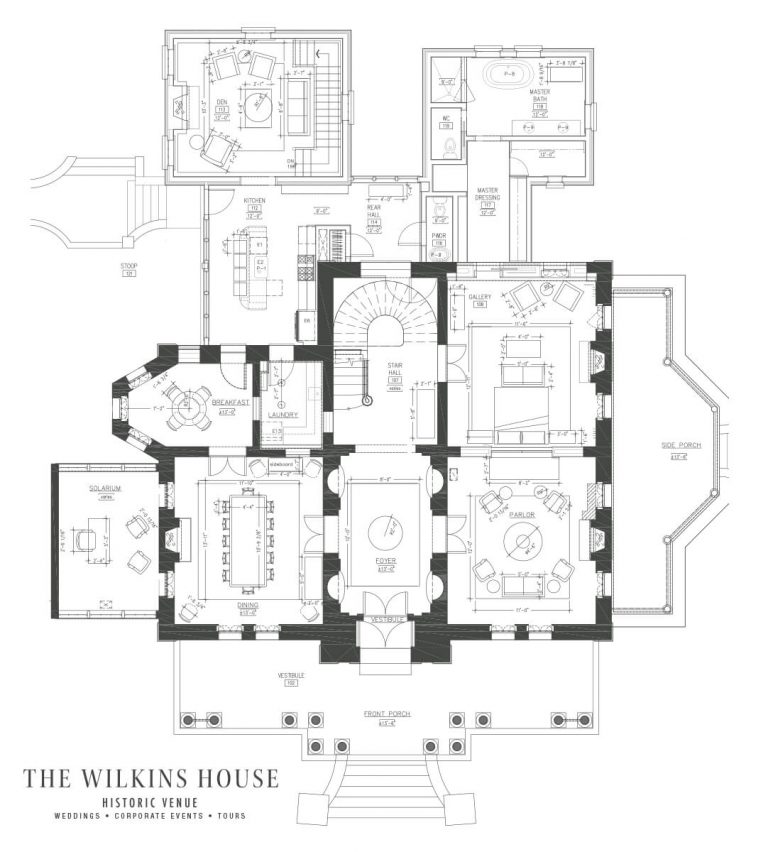 Frequently Asked Questions
How many rooms/spaces does The Wilkins House have that are reservable?
The main level, ½ of the lower level, upstairs for the bridal group getting ready.
Do these rooms have names or special features? Originally restored to the era's true aesthetic Any notable artwork in them?
Original and notable art throughout the home.
Is the Wilkins House ADA accessible?
Only the lower level, the upper level can have a temporary structure put in place. No elevators.
Is there WiFi access?
Yes
How many people can The Main House accommodate?
125 people
What type of events can The Wilkins House host?
Weddings, corporate events, private parties, celebrity dinners
Are there audio/visual capabilities?
Audio runs throughout the main and lower level. 84" flat screen in lower level.
Are there any outdoor spaces or is it primarily an indoor venue?
Yes, there is an upper tier which has a bricked paved courtyard and seats 110 people. The lower tier features a water fountain, outdoor kitchen and large grass area and can host 100 people.
What sort of parking is available?
Parking is available in adjacent private parking lots. Valet is strongly encouraged.
Are there specific caterers/vendors that come with reservations or can people use their own?
They can use the recommended list of caterers which includes: Halls, Ricks and/or they can submit their caterer for review and approval.
Is there an on-site catering prep area?
Not for cooking, but there is storage areas off the kitchens.
What does The Wilkins House provide?
Tables, tablecloths, chairs and glassware.
Do you have floor plans/schematics to give people an idea of the room layouts?
See example below: yes in email
Hotels near by – poinset hotel, marriot, Hampton inn at riverplace, hyatt downtown, aloft, Hilton, embassy suites at riverplace